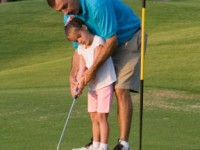 Looking for a great family activity? Spend the day at Turtle Cove! Play a round of miniature golf or take a golf lesson designed for the whole family. Enjoy a healthy and delicious lunch Al fresco at the Turtle Cove Café. Turtle Cove is proud to offer a series of programs for you to learn and play golf as a family.






• Miniature Golf
• Family Golf Lessons
• Kids Play Free
• Junior Golf Lessons
Miniature Golf
Enjoy our newly renovated, beautifully landscaped miniature golf course. Our 18-hole course is designed to be challenging, yet fun for all skill levels. Make a day of it and enjoy lunch or dinner at our family-friendly Turtle Cove Cafe!
Family Golf
In today's world, it seems like people don't have the time to play a traditional round of golf. As a result, Play Golf America provides families with numerous options to enjoy the great game of golf, yet not commit to playing a full 18 holes.
A great family activity can be to go to a near-by golf range and hit a few buckets of balls. From learning to grip the club to a high-tech lesson, going to the range can be a great day or night out for families. To make this easier, golf ranges across the country will be participating in Bring Your Kids to the Golf Range. Turtle Cove is proud to be Manhattan's only facility participating in this important program.
At Turtle Cove, our trained PGA professionals can design an instructional program for your entire family, no matter the skill level. We'll help your small children learn the fundamentals, while working with Mom and Dad to help improve their existing skills.
Kids Play Free
Looking for a fun and affordable recreation the entire family can enjoy together? Golf facilities across the country are making it easy through the "Kids Play Free" program. In most cases, kids play free of charge when accompanied by a paying adult. It's that easy! It's that affordable!
Junior Golf Lessons
Children are never too young to learn the game of golf. If a child starts playing golf at a young age, chances are he or she won't develop as many bad swing and etiquette habits as those who take up the game later in life.
In addition to Tiger Woods, some of the game's greatest players, such as Arnold Palmer and Bobby Jones, started off by playing golf with their fathers. There's no guarantee your child will grow up to be another Tiger, but golf is certainly a game for a lifetime. Plus, there are not many other sporting activities where parents and children can spend so much quality time together in an outdoor setting.