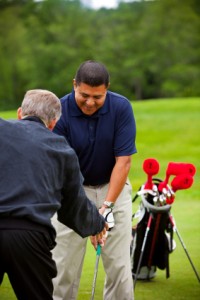 Turtle Cove has professional teachers on hand to help your game, including experienced PGA professionals. We offer private instruction for any skill level from beginner through advanced. All lessons include high speed digital video, range balls during lesson, and clubs if needed. All private lessons include high-speed video analysis and copy of video sent via email.
To book a lesson online with one of our instructors, please click on the link below.
https://www.smarterlessons.com/prod/pub/?m=6367e3679a1837a516917cba6ba8b970
| | | | |
| --- | --- | --- | --- |
| Private Lesson Rates | Rick | Keith | Richie |
| One Hour | $140 | $100 |  $90 |
| 45 Minutes | $115 | $75 |  $70 |
| 30 Minutes | $75 | $55 |  $50 |
| Junior 30 Minutes (Ages 5 -15) | $60 | $40 |  $30 |
| Junior One Hour (Ages 5 -15) | $115 | $75 |  $55 |
| Series Packages | | | |
| Five 1 Hour lessons | $675 | $475 |  $425 |
| Five 45 minutes lessons | $575 | $375 |  $325 |
| Five 30 minutes lessons | $425 | $275 |  $225 |
INSTRUCTORS
Rick Nielsen, PGA, G.S.E.M.,
Director of Golf
Rick is the Director of Golf at Turtle Cove Golf Center. He has been the Head Professional at Randalls Island Golf Center since 1998 and is President of Rick Nielsen Golf. He was the co-founder of the East River Golf School which was named best Junior Golf Program in NYC. Previously, Rick was the Head Professional at Smithtown Landing CC on Long Island. Rick is a Class "A" PGA Professional with nearly 30 years of experience. He is an authorized instructor of The Golfing Machine and one of only 62 worldwide with the designation, Master in Golf Stroke Engineering (G.S.E.M.). Rick is also a Certified Flightscope Insructor
During his career, Rick has coached many professionals, men, women and juniors to championship levels. Rick has produced two instructional DVD's, Power Golf Dynamics and Shrink Your Score featuring Dr. Phil Lee, renowned Sports Psychologist.  Rick also produced the golf program for SportsMechanics.com, a unique online learning program using an avatar to highlight the fundamentals of golf. Rick is a frequent speaker for both professional and amateur organizations and has also hosted his own radio show, GolfTalk. Rick has written articles for numerous golf publications and has sat on the Metropolitan PGA Board of Directors.
Rick is a Certified Pilates Instructor and is the founder of Power Golf Pilates, a unique Golf-Pilates based exercise program. Rick is also a Titleist Performance Institute (TPI) Certified Professional Fitness Instructor. Additional information and videos can be found at www.ricknielsengolf.com.
Keith Profilio
Teaching Professional
Keith Profilio's golf career spans over 25 years as a golf professional and as a player. Before his role as Teaching Professional at Turtle Cove Golf Center, Keith worked in Brooklyn as a golf instructor for more than ten years.  From 2001 to 2004, he was also the Senior Instructor of the Brooklyn Junior Golf Camp where he taught more than 500 New York City junior golfers. He became Head Golf Professional at Brooklyn Golf Center in 2006 and held this position until 2011
Prior to this, Keith was the Director of the McDonald's/Kelley Brooke Junior Golf Camps. Under his supervision, more than 200 children learned how to play golf.  Keith also acted as Site Supervisor for the NYC Golf Club, Inc., the only after-work adult golf club in New York City. More than one hundred golfers participated in this club that rotated between three Staten Island golf courses.
Keith offers private instruction for players of all levels and ages. As a medalist for the PGA playing ability test, Keith brings his experience and passion for golf to his lessons. All lessons include full video analysis, equipment evaluation, range balls, and clubs if needed. Keith is available for private instruction, semi-private instruction, group clinics, and playing lessons.
Richie Tiberi Jr., PGA
Teaching Professional
Richard is a new member to the PGA of America as of April 2012. He attended Arizona State University from 2007-2011 where he was enrolled in the Professional Golf Management program.  Richie graduated with honors and is now a class "A" PGA Member in the Metropolitan Section.
Richie has been playing golf for thirteen years and has always had a passion for teaching. Growing up he was fortunate to be able to attend Nike Golf Camps, Dave Pelz Short Game Schools and go to the finest golf schools in the country. He also spent two years at the David Leadbetter Golf Academy. At these schools he learned about the golf swing and mental game and started teaching his friends and family how to play the game. Richie has also developed junior golf camps (ages 4-12) at Brooklyn Golf Center and Trump National Colts Neck and has nothing but positive feedback. During high school and college years he was involved with strength training and mobility exercise programs and developed a fitness program for golf.